Build a Strong Future for Radiology
RSNA Showcases Innovation in the Technical Exhibits Halls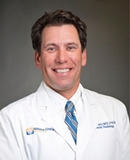 Many of today's scientific advancements in the field of medicine get their start in radiology.
"Research and development in radiology will continue to transform and revolutionize medicine through better and faster disease detection, diagnosis and treatment," said John Renz, MD, RSNA Technical Exhibits Committee chair. "So much of what is changing and improving patient care and healthcare is a result of the tremendous advances in imaging."
From precision imaging and Easy PACS to 3-D viewing, cloud technology and machine learning, radiology is indeed at the forefront of technology and innovation in medicine.
These observations are mirrored in some of the newest elements on display at this week's RSNA annual meeting.
The goal of the Technical Exhibits Committee, according to Dr. Renz, has been to bring these emerging technologies into focus and to highlight the current and future impact on radiology and medicine.
"Ultimately, through these evolving technologies, physicians will find the needed tools to deliver earlier diagnosis and better treatment for patients," Dr. Renz said.
The new Machine Learning Showcase invites attendees to learn about the latest machine learning (ML) technology and network with companies on the forefront of ML advancements.
It only made sense, the committee determined, to make it easy for meeting attendees to find everything involved with this cutting-edge work in one place on the exhibit floor.
The howcase features a Machine Learning Theater where companies will make presentations of their products daily between 11 a.m. and 2 p.m. A complete schedule of presentations is available at Meeting.RSNA.org.
Also on exhibit in the Showcase are submissions to the Machine Learning Challenge. Since early August, 250 participants in 29 teams from around the world have been working with fast-emerging artificial intelligence technologies to demonstrate how these new tools can be used to improve patient care.
The Challenge, launched by the RSNA Radiology Informatics Committee, addresses a familiar image analysis for pediatric radiologists: Assessing bone age using hand radiographs. The teams created algorithms to make bone age evaluations based on a data set of radiographs from Stanford Children's Hospital, Colorado Children's Hospital and the University of California, Los Angeles. Their work was then compared to evaluations made by expert observers. The three most successful teams were recognized on Monday, and results are published in both the Machine Learning Showcase and the Machine Learning Community in the Learning Center.
Also new to the Technical Exhibits is the Start-up Showcase, in which 14 emerging companies that are bringing new innovations to the market for the first time are spotlighted.
In fact, of the nearly 700 technical exhibits on display at the RSNA annual meeting, 140 will be first-time exhibitors and many will be newer companies.
Meeting attendees are invited to explore the Technical Exhibits Halls this week and discover new exhibitors as well as new technologies in medical imaging.
"It is truly remarkable how much progress and advancement has occurred in this area during the past year since our last meeting," Dr. Renz said.
Meeting attendees will find the Machine Learning Showcase in the North Hall B, Booth 8149. The Start-up Showcase is located in the North Hall B, Booth 6455.