Breaking the Siege on Healthcare Services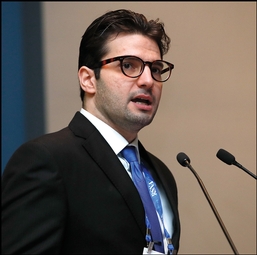 In 2011, when a series of peaceful, pro-democracy demonstrations in Syria led to an excessive military response against protesters, hospitals became detention centers and military forces targeted medical personnel and facilities, leaving people with nowhere to go for medical help.
In a Tuesday morning session, Abdulrahman Masrani, MD, radiology resident at the Mallinckrodt Institute of Radiology at Washington University, shared a creative method to leverage social media platforms and deliver radiological services to patients in areas under siege.
Dr. Masrani and his colleagues established the Tele-Radiology Relief Group (TRRG) in February 2015 with the assistance of the Syrian American Medical Association. It began as an addition to a pre-existing Tele-ICU project and consists of a group of American and Syrian radiologists who provide diagnostic reports to healthcare professionals in the area.
The need for radiology services is critical, according to Dr. Masrani. "There is a deficiency of medical supplies and significant expense to obtain them. Local medical staff lack properly trained radiologists, and there is only one post-grad, third-year resident serving 400,000 people," he said. "Clinicians have no access to the sophisticated software or technological advancements available in the United States."
The team devised a seemingly simple process providing service via social media. Healthcare workers in Syria publish cases as private posts on Facebook including detailed medical histories and other patient information. Then, they use WhatsApp or Telegram to notify volunteer radiologists of the pending post. Radiologists, working remotely from the United States and Saudi Arabia, view the cases and report findings as comments on the posts.
Since the beginning of the program, the TRRG has provided reports for 475 studies: 359 CT scans, 10 with contrast, 112 plain radiographs and four ultrasound studies. These figures represent the studies for which the clinicians in Syria required assistance and are only a portion of the total studies taken.
Protocol and Connectivity Challenges
Dr. Masrani said his team experiences many challenges including issues with protocolling and contrast. The staff at the site are most skilled with ultrasound imaging and prefer it over other modalities. Conversely, they require more assistance with CT scans but have difficulty timing scans after injecting contrast die. The result is a lack of contrast and overall suboptimal imaging.
Additional problems exist with connectivity. "There is severely limited phone and internet access, so even after images are captured, several hours may pass while clinicians access a computer, load the images, connect to the internet, upload the images to Facebook and wait for the response," Dr. Masrani said.

The delays cause complications with care. Patients are transported away from the imaging facility hours before a radiologist can review and assess the images, so additional images cannot be taken, and providing an accurate diagnosis is challenging.
In some severe trauma cases, the radiologist may discover a life threatening injury, and clinicians must negotiate for patient transfer to nearby Damascus for care. "It is only nine miles away, but sometimes negotiations are unsuccessful, and the patient does not survive," Dr. Masrani said.
Despite these serious concerns, the team is confident about the value of social media for delivering radiology services. They have considered expanding the program to other besieged areas, however, they hope to first improve connectivity and increase their work volume before engaging additional volunteers.