Diagnostic Imaging Plays Increasingly Critical Role in Drug-Related Issues
By Nick Klenske
Illicit drug abuse is a serious issue around the world and, in particular, in the U.S., where cases of drug abuse — and death — are skyrocketing.
"At 246 deaths per million people, the U.S. has the highest rate of drug-related deaths in the world," said Arie Neymotin, DO, of the Emory University School of Medicine, speaking on Tuesday during a session in the RSNA Learning Center.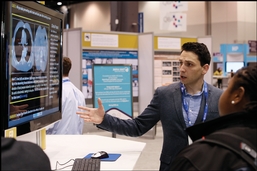 When treating overdoses and other drug-related issues, diagnostic imaging is uniquely positioned to provide a rapid and correct diagnosis. But because drug use can alter a patient's mental state and respiratory function, clinicians often struggle to get an adequate history or physical exam.
"Whenever a patient arrives in the emergency room (ER) showing signs of possible drug use, diagnostic imaging will play a critical role," Dr. Neymotin said. "But in order to narrow the differential of diagnosis, radiologists must be able to correlate the patient's clinical history with the imaging findings."
For this reason, diagnostic radiologists should make an effort to be aware of the latest trends in illicit drug use, Dr. Neymotin said.
A case-in-point is K2, the synthetic marijuana that is now the second most popular drug among U.S. teenagers. The drug, which is composed of industrial chemicals intended to mimic the effects of THC, can be linked to small airways diseases.
"The findings of small airways disease are often non-specific, with the differential considerations including hypersensitivity pneumonitis, respiratory bronchiolitis and infectious bronchiolitis," he said. "In this case, knowing the patient's pertinent history will help narrow the differential and ensure appropriate treatment."
Knowledge of Illicit Drugs is Critical
In hospitals across the country, an all-too-common ER scenario is a patient showing signs of opioid use.
"As the findings on a CT may initially be subtle, the clinical scenario plays an important role in identifying early signs of hypoxia," Dr. Neymotin said. "Knowing the patient's history of drug use, an opioid receptor antagonist, such as naloxone, can be used to reverse respiratory depression and avert an ischemic injury."
Another popular trend in drug use is what is commonly referred to as "chasing the dragon," a method of inhaling vaporized heroin that can cause a specific pattern of leukoencephalopathy, a result of toxins being released when the drug is heated in aluminum foil. As toxic leukoencephalopathy can also be caused by chemotherapy and immunosuppressive drugs, clinical history is essential to differentiating the potential causes.
"These are examples of how a basic level of awareness about current trends in illicit drug use can go a long way in improving imaging accuracy," Dr. Neymotin said. "Knowledge of pathophysiological pathways can help diagnostic radiologists recognize specific imaging appearances related to the illicit use of drugs."