Radiology to Play a Pre-Clinical Role in the New Paradigm of Dementia Diagnosis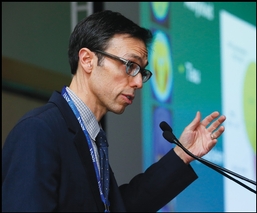 As healthcare shifts to a new paradigm, the current role of radiology in evaluating and managing dementia is going to evolve into a larger, more pre-clinical role in rendering personalized risk profiles and predictions of how patients are going to respond to therapy.
That was the message relayed by Jeffrey R. Petrella, MD, professor of radiology, Duke University School of Medicine, during the Monday session, "The Imaging of Cognition — Dementia," on the role of imaging in the clinical evaluation and management of dementia. The session was one of a full day of sessions devoted to dementia at RSNA 2017.
In dementia, there is a widening gap between what is going on in research and how radiology is practiced in the reading room, Dr. Petrella said.
"What we are doing every day in the reading room seems to have stagnated," he said. "When a patient presents with a clinical problem of memory impairment we use some descriptive terms that are not necessarily uniform. And many times we don't address the clinical question that our referring colleagues are looking for."
Dr. Petrella said much of this is based on what he calls an old paradigm of dementia where physicians follow a decline in a patient's cognitive level until it reaches an "arbitrary point called dementia." At that point, therapy is prescribed for those patients.
The new paradigm is characterized by the potential of biomarkers as a means to early diagnosis, as well as the recognition that dementia is not a single entity, Dr. Petrella said.
"In the new paradigm, the emphasis is on the early preclinical or prodromal stage of dementia where there is a clinically silent pathology," Dr. Petrella said. "The idea is that treatment can be more effective before patients suffer irreversible neuronal loss."
"In addition to quantifying anatomy, which is really something we can do now, we are also on the cusp of quantifying vascular lesion burden," he said. "So quantification is something we'll be seeing."
Imaging Shifts to Pre-Clinical Stage
He also suggested that when it comes to dementia, radiology is going to see a change in emphasis from differential diagnosis to prediction. Much of that will come down to the "three B's" — biomarkers, big data and bioinformatics.
For example, radiology will be able to use data available in huge databases to create quantitative predictive models and turn those predictive models into personalized risk assessments. Dr. Petrella pointed out this is currently being done in the Autism Brain Imaging Data Exchange (ABIDE) study in the Netherlands.
So what will radiologists be able to offer their referring physicians in the near future?
"There will still be a descriptive component to our reports, but we'll also be seeing quantitation not only of atrophy, but of vascular disease, as well as a characterization of atrophy patterns, and a comprehensive assessment of a patient's molecular profile," he said.
"We will be putting this together in informatics models to convey personal risk assessments. This will give a much better product and be more helpful to our referring clinicians," Dr. Petrella said.