Exploring the Connection between Blast Injuries and Pulmonary Hypertension
For soldiers deployed in combat missions, blast injuries are an unfortunate, but all-too-common, cause of injury and death.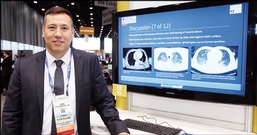 An explosion causes a sudden release of energy, which forms what are called blast waves. As these waves interact with the body, stress and shear waves are formed – injuring the locations that are spatially separated from the site of the displacement of the body wall. As blast pressure waves primarily exert force at the air-tissue interfaces within the body, pulmonary, gastrointestinal and auditory systems are at the highest risk for injury.
While reviewing non-combat and war- zone CT scans of soldiers who had suffered a blast injury to the lungs, John P. Lichtenberger, MD, and colleagues at the Walter Reed National Military Medical Center noted an interesting pattern: In addition to their blast-related injuries, many soldiers also showed signs of pulmonary hypertension.
"We recognized that when a soldier experiences a blast, such as from an improvised explosive device, or IED, something happens that makes it difficult for blood to travel through their lungs," said Dr. Lichtenberger, speaking from the RSNA Learning Center on Monday. "What we wanted to know was whether or not there is a correlation between the blast injury and the presence of pulmonary hypertension."
A Previously Unrecognized Complication of Blast Injuries
Dr. Lichtenberger and colleagues conducted a study to determine the incidence of main pulmonary artery (MPA) dilation (which correlates with pulmonary hypertension) in blast injury patients with and without pulmonary artery occlusion from emboli or thrombosis.
Focusing on combat wounded military service members ages 19 to 56, researchers reviewed 565 (562 male, 3 female) polytrauma CT scans. Of these, 63 patients demonstrated an MPA diameter greater than 2.9 cm, while 68 had an MPA/ascending thoracic aorta ratio greater than one. Combined, 28.5 percent of the patients studied had CT evidence of pulmonary hypertension.
"As this number is much higher than what is expected in otherwise healthy patients, it suggests that pulmonary hypertension is a previously unrecognized complication of blast injury," Dr. Lichtenberger said.
Dr. Lichtenberger said this is the first study to describe this possible association between a blast injury to the lungs and pulmonary hypertension.
"However, before we can improve the long-term treatment of this injury, we need to learn more, such as whether this is a temporary or permanent condition," he said.
Nevertheless, Dr. Lichtenberger believes the study's initial findings can already have a significant impact on therapy and treatment.
"Now that we are aware of the pulmonary hypertension problem, we can start to change our approach to therapy," he said. "This starts in the combat theater where, following a blast, medical providers can immediately begin looking for pulmonary hypertension."
For instance, as subtle pulmonary findings are better seen on CT compared to chest radiography, Dr. Lichtenberger encourages the use of CT for patients showing persistent blast lung symptoms with negative chest radiographs.
The study also has potential implications for civilian populations. "Whether from a terrorist attack or an industrial accident, blast injuries, and presumably pulmonary hypertension, happen to civilians too," said Dr. Lichtenberger.
Now that we are aware of the pulmonary hypertension problem, we can start to change our approach to therapy.