Fast 5 Session Makes RSNA Debut Today
An engaging, fast-paced opportunity to share new ideas, the RSNA Fast 5 Session makes its debut today at 1:30 p.m. in the Arie Crown Theater.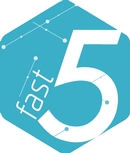 The session will feature five speakers who will each make a five-minute presentation on ways to invent, explore and transform radiology.
Sessions are:
"3 Categories of Referring Clinician Preferences Based on Survey Data," Richard E. Heller, III, MD
"Radiology Engagement Project (REP): A Novel Online Tool for Public/Patient Engagement,"
Syed E. Junaid, MBBS, BSc
"Radiology-TEACHES: (Technology Enhanced Appropriateness Criteria Home for Education Simulation)," Marc H. Willis, DO, MMM
"Artificial Intelligence in Radiology: Lessons from the Financial Sector," Ajay Kohli, MD
"Value-Added Matrix: Defining, Categorizing, Quantifying, and Presenting Value-Added Radiologist Actions in 5 minutes," Samir B. Patel, MD
Follow the conversation on social media at #RSNAFast5.