Theoretical Physicist Michio Kaku Presents Today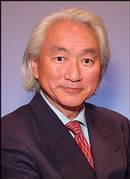 Renowned theoretical physicist, Michio Kaku, PhD, is one of the most widely recognized figures in science in the world today and an internationally recognized authority in Einstein's unified field theory and in predicting trends affecting business, commerce and finance based on the latest research in science.
"Dr. Kaku has served as a superstar ambassador for science," said RSNA President Richard L. Ehman, MD. "An accomplished scientist himself, his presentations boldly address the physics of mysteries of the universe in a way that is accessible and entertaining."
Dr. Kaku will deliver a special lecture entitled "The Next 20 Years: How science and technology will revolutionize business, the economy, jobs, and our way of life" in the Arie Crown Theater today at 2 p.m.
Dr. Kaku holds the Henry Semat Chair in Theoretical Physics at the City University of New York (CUNY). He graduated from Harvard University in 1968. He received his PhD in physics from the University of California at Berkeley in 1972 and has been a professor at CUNY for almost 30 years. He has also taught at Harvard and Princeton.
Dr. Kaku's lecture replaces a previously scheduled lecture on cyber security by Robert Herjavec. Preceding Dr. Kaku's talk will be a "Fast 5" session at 1:30 p.m., featuring five speakers delivering lively, five-minute presentations on transformational ideas in radiology.