Standardized Protocols Aid in Dose Reduction
Radiologists can achieve a significant reduction in the dose variance for head, chest and abdominal/pelvic CT through standardized protocols and the implementation of advanced software designed to better manage dosing.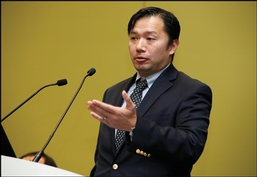 "Despite the large amount of literature on radiation dose reduction in CT, we discovered that not much has been described in reducing variability of administered radiation doses," said Ryan K. Lee, MD, MBA, clinical associate professor of radiology at Sydney Kimmel Medical College (SKMC) at Thomas Jefferson University (TJU).
In a Wednesday morning session, Dr. Lee noted that dose variability within a single healthcare network can come from many sources. "The technologist's or radiologist's preference, culture of the imaging site, patient body habitus and variations in scanner manufacturers and models are all connected to inconsistencies in dose administration," he said.
Dr. Lee and his colleagues first analyzed whether reductions in radiation dose were associated with a reduced variation in dosing. Finding no guaranteed correlation, they sought to overcome dose variations and implement a method to manage CT dose to ensure consistency in the amount of radiation administered for each type of study.
The team established the Radiation Dose Optimization Committee (RDOC), a group of radiologists, radiology residents, a radiation safety officer, medical physicist and technologists. The group standardized dose protocols at each imaging facility across their network and implemented custom scanning software designed to reduce dose variance between patients.
The custom software implemented included modifications in the amount of tube current and permitted slightly more noise while providing better dose management. This avoided the exponential increase in radiation that can occur, particularly in larger patients, with conventional methods of dose modulation.
To evaluate their approach, the researchers measured the variance of administered dose to head, chest and abdominal/pelvic CT over two periods: pre-intervention (Jan 1, 2013 to Jul 31, 2014) and post intervention (Jan 1, 2016 to Dec 31, 2016). They performed a statistical analysis for differences in variability of radiation dose between the two periods using Bartlett's test. Results showed that post-intervention, standard deviation was significantly decreased for all studies.
Dr. Lee said the main challenge to evaluating the efficacy of dose management measures was determining the effect of specific interventions. The team performed interventions contemporaneously rather than applying them in stages.
"We did not necessarily have control over when interventions could be implemented. For example, implementation of specific software at sites occurred as the software became available through the manufacturer," he said adding, "The effort to standardize protocols required differing amounts of vetting resulting in differing times of implementation."
The researchers would like to take the process further and attempt to identify factors in variability that may be specific in different settings such as inpatient, outpatient or emergency departments. Dr. Lee said that support from senior administration when implementing these changes was very important. "Our chair was not only a supporter...but also a champion. This support lent credibility and authority to our efforts resulting in success in reducing variation at our institution."