3-D Printing Models, Augmented Reality Images Help Surgeons Visualize Tumors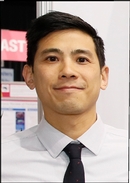 What if a surgeon could study a 3-D model of a tumor in situ before operating on a patient? What if a radiation oncology team could overlay an "augmented reality" image onto the patient's body to pinpoint the location of a tumor while planning radiation treatment?
A presenter at a Wednesday poster session described just these types of visualization tools, derived from MRI and CT scans. Lincoln Wong, MD, led a research team from the radiology departments at the University of Nebraska Medical Center (UNMC) and the Children's Hospital and Medical Center, in Omaha, in creating 3-D printed models of three types of tumors — a neuroblastoma, a pheochromocytoma and a mediastinal synovial sarcoma — that surgeons have used to plan and guide surgeries, and to explain the procedures to their patients. Models have also been used to plan radiotherapy.
Tumor printing began about a year ago at Children's Hospital and Medical Center at the request of a surgeon who wanted a model of a patient's abdominal tumor, as well as the surrounding organs.


"We had printed hearts, but this was the first time I had heard of printing a tumor in situ," said Dr. Wong, pediatric radiologist at Children's Hospital Medical Center. "Bones are easy, which is why there are tons of case reports about bones, spines and skulls. Hearts are relatively easy to print from cardiac MR. But soft tissues can get mixed up with organ parts, and we have to segment them slice by slice to ensure that the model will render the area accurately."
The surgeon used that first tumor model to plan the surgery, teach resident fellows the surgical approach and help the family understand what was happening. "The surgeon took the 3-D model into the operating room with him to visualize where the tumor was, and it was spot on," Dr. Wong said.
Other surgeons were also enthusiastic about the new technique. "I would equate it to the impact that CT imaging made over plain x- rays. It has opened up a whole new world," said one surgeon quoted on Dr. Wong's poster.
Radiologist Key to Success of 3-D Printing
Each organ or anatomic structure can be color-coded to help the model's user see their relative positions. The models can either be printed on a 3-D printer or viewed with virtual reality technology that provides similar benefits but without the time and expense of creating physical model.
While eventually the team hopes to superimpose the virtual images on patients, the images so far are only able to float in space like Tony Stark's 3-D workstation in the movie "Iron Man." The virtual models can also be viewed and superimposed on a surface using a smartphone camera and a free app called Augment.
Whether physical or virtual, the models are made using CT and MRI images with less than 1 mm slice thickness to maximize their accuracy and imported into software that translates them into 3-D printing files.
The translation is not straightforward — especially with abdominal images — and needs to be tweaked to get each organ and structure right.
Radiologists and imaging technologists collaborate on the 3-D rendering of the images to ensure accuracy. "The radiologist is key to the success of 3-D printing," Dr. Wong said. "You can do so much more with the radiologist guiding the process."