NFL Players Present with Ascending Aortic Dilation and Coronary Artery Calcium
By Jennifer Allyn
While much of the recent medical attention on National Football League (NFL) players has been on concussions and the risk of future neurologic disease, a new study presented on Wednesday shows that many former NFL players have enlarged aortas and could be at greater risk for aneurysms.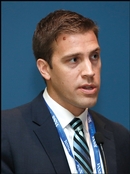 "There have been previous studies that have looked at the role of strength training versus endurance training in relation to the remodeling of the aorta," said Christopher Maroules, MD, from the Naval Medical Center in Portsmouth, VA. "Our study looked at the potential for both of these types of training, which most professional athletes are proficient in, to affect the ascending aortic dimensions, particularly after the athletes have retired and no longer train as vigorously."
Researchers compared 206 former NFL athletes over the age of 40 to 759 matched male subjects from the Dallas Heart Study with a body mass index greater than 20 kg/m2. Mid-ascending aortic dimensions were obtained from non-contrast, multidetector cardiac-gated CT scans performed as part of a screening protocol or as part of the Dallas Heart Study. Researchers also looked for an increased prevalence of coronary artery calcium (CAC) using the Agatston method.
Compared to the control group, former NFL athletes had significantly larger ascending aortic diameters (3.8 ± 0.5 vs. 3.4 ± 0.4 cm) with a significantly higher proportion (30 percent) of former NFL players with an aorta greater than 4.0 cm compared to the non-players (8.6 percent). Even after adjusting for age, body mass, race, cardiac risk factors and lifestyle factors, like smoking, the former NFL players were twice as likely to have larger ascending aortas.

CAC scores were similar in both groups as was the distribution across CAC score categories. According to Dr. Maroules, because there were no significant differences between the coronary calcium of the two groups, the aortic dilation is likely not associated with atherosclerosis cardiovascular disease.
The study also separated the former players into positions by linemen or non-linemen. "Former linemen, which includes positions like center, linebacker, and defensive and offensive tackle, had a two-fold higher risk of aortic enlargement than non-linemen," Dr. Maroules said. "Even after multivariable adjustment, we were unable to find a reason why different positions would have affected the aorta differently."
The results of the study do not imply a direct causal relationship between high-intensity training and aortic enlargement, according to Dr. Maroules. "However, there is likely a vascular remodeling process in some elite athletes that results in larger aortic size," Dr. Maroules said. "Whether this remodeling is adaptive or maladaptive over the long-term remains uncertain. Future research could influence medical management, activity restriction and surgical indications for elite athletes."