Pettigrew, Zerhouni to Discuss the Future of Biomedical Imaging
RSNA welcomes Roderic I. Pettigrew, PhD, MD, and Elias A. Zerhouni, MD, to the Arie Crown Theater today to present lectures as part of the RSNA 2017 Opening Session, which begins at 8:30 a.m.
Tomorrow's Radiology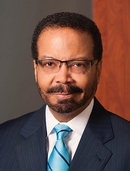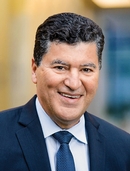 Dr. Pettigrew's presentation, "Tomorrow's Radiology," will focus on the need for health longevity as the overarching goal of the healthcare enterprise, one that is even being pursued by the National Academy of Medicine. The vision is straightforward: to be born healthy, acquire no significant disease, live a long and satisfying life, and to reach the end of life without pain or suffering from disease.
Founding director of the National Institute of Biomedical Imaging and Bioengineering (NIBIB), Dr. Pettigrew is a pioneer in biomedical imaging who has implemented multiple innovative programs and is helping create a new era in medicine. Among his accomplishments at NIBIB, Dr. Pettigrew jointly led a national effort with the Howard Hughes Medical Institute to create new interdisciplinary graduate training programs.
In addition to his duties as NIBIB director, Dr. Pettigrew has served as the NIH Liaison to NASA and the U.S. Department of Energy, and he has co-led a joint with the Bill and Melinda Gates Foundation to develop a cell-phone-based platform to test for influenza and other diseases at home.
Imaging Innnovation
In his lecture, "Imaging Innovation in 21st Century Biomedicine – Challenges and Opportunities," Dr. Zerhouni will discuss the role imaging plays in biomedicine and in realizing the core goal of personalized medicine: intervening before deterioration of function by predicting which patients will most likely benefit from novel therapeutics.
A world-renowned leader in radiology and medicine, Dr. Zerhouni serves as president of Global Research & Development, and as a member of the executive committee at Sanofi, a Paris-based global leader in diversified healthcare solutions.
Dr. Zerhouni is one of the world's premier experts in MRI, extending the role of MRI from taking snapshots of gross anatomy to visualizing how the body works at the molecular level. As a researcher, he is credited with developing imaging methods used for diagnosing cancer and cardiovascular disease.
From 2002 to 2008, Dr. Zerhouni served as director of the National Institutes of Health (NIH). In 2009, former President Obama appointed him as one of the first presidential U.S. science envoys. Dr. Zerhouni received the RSNA Gold Medal in 2010.