Prevalence of Honorary Authorship a Growing Concern
The use of honorary authorship in radiology journals is problematic, according to presenters at a Thursday session, who suggested several ways the issue could be addressed.
Defined as the "intentional misrepresentation of credit to an individual whose contributions to a biomedical article do not meet the criteria for authorship established by the International Committee of Medical Journal Editors (ICMJE)," honorary authorship serves to inflate the bibliography of the honorary author, while diluting recognition of input of authors who met the criteria of authorship, said Ronald L. Eisenberg, MD, JD, of Beth Israel Deaconess Medical Center and Harvard Medical School, Boston.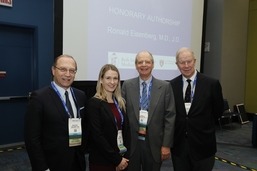 The criteria for authorship established by the ICMJE are:
Substantial contributions to the conception or design of the work; or the acquisition, analysis, or interpretation of data for the work; and
Drafting the work or revising it critically for important intellectual content; and
Final approval of version to be published; and
Agreement to be accountable for all aspects of the work.
A study by Dr. Eisenberg and colleagues, published in Radiology, aimed at quantifying the perceived frequency of honorary authorship identifies several factors as contributing to the practice, including listing the section or department head as an author by default.
Another contributing factor to the practice of conferring honorary authorship is that of ascribing authorship credit for non-authorship tasks, including reviewing the manuscript, approving the manuscript before submission, signing a copyright transfer form, performing cases, recruiting study subjects, supervising or recruiting co-authors, funding and contributing illustrations.
Speaking to the prevalence of honorary authorship, Dr. Eisenberg noted that, among initial study participants, 26 percent perceived that one or more of their fellow co-authors did not contribute sufficiently to warrant authorship and 59 percent believed that one or more of their fellow co-authors performed only non-authorship tasks.
An additional study by Dr. Eisenberg and colleagues to investigate possible geographical components of honorary authorship identified a higher perception of the practice among first authors from Europe and Asia as compared to North America. It was also published in Radiology.
Several reasons for the increased perception outside of North America, include more patronage, more pressure for promotion, less understanding of ICMJE definitions and less stringent senior author review, according to Adrian K. Dixon, MD, emeritus professor of radiology at the University of Cambridge in England and a former editor of Clinical Radiology.
To successfully overcome the practice, Dr. Dixon advocates a shift in preference for quality over quantity when considering publishing credits, the use of acknowledgments to recognize contributors with non-authorship tasks and, most importantly, guarantorship via a tenured individual who can accept responsibility for the study files for 10 years in case of inquiry.
Philippe A. Grenier, MD, PhD, of Pitié-Salpêtrière Hospital in Paris, said institutional pressures also contribute to the practice, specifically financial pressures endured by hospitals and the pressure on departments to increase publications.
Regardless of the contributing factors, the presenters agreed that work must be done to not only raise awareness of honorary authorship, but also to help curtail its practice.
Addressing the specific ways in which honorary authorship may negatively impact trainees and residents, Kate Hanneman, MD, of University Health Network, University of Toronto, pointed out that these individuals may be the most vulnerable and, as such, may give honorary authorship to lend greater credibility to their work and increase their publication credits.
Although the conversations may be difficult, Dr. Hanneman advised that trainees and residents should discuss the issue of honorary authorship with their supervisors or department heads should a concern arise.
"Authorship can be an ongoing discussion," she said, "but it's very important to have the conversation early."