New Horizons Lecture Dedicated to Mansfield
The 2017 New Horizons Lecture was dedicated to the memory of MRI pioneer and Nobel laureate Sir Peter Mansfield, PhD, who died in February. Dr. Mansfield was awarded the Nobel Prize in Physiology or Medicine in 2003 for his work developing MRI, a technique that changed the face of modern medicine.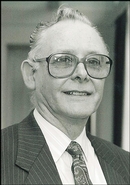 Dr. Mansfield, a physicist, shared the Nobel Prize with Paul C. Lauterbur, PhD, a chemist from the University of Illinois, Urbana, who died in 2007. Dr. Lauterbur is credited with inventing the MRI technique as part of Dr. Mansfield's team at the University of Nottingham in England in the 1970s.
Dr. Mansfield, an emeritus professor of physics at Nottingham since 1994, further developed MRI with his invention of echo-planar imaging, which dramatically reduced scan times. In 1978, Dr. Mansfield became the first person to step inside a whole-body MRI scanner so it could be tested on a human subject.
Born Oct. 9, 1933, in London, Dr. Mansfield left school at 15 to become a printer's assistant. Eventually, he returned to school and obtained a physics degree and his doctorate from Queen Mary College, University of London.
Dr. Mansfield began his professional career in 1962 as an appointed research assistant in the physics department at the University of Illinois, the same institution where Dr. Lauterbur worked, though 20 years apart. Dr. Mansfield joined the University of Nottingham as a physics lecturer in 1964 and remained there until his retirement 30 years ago. The Sir Peter Mansfield Imaging Centre at the university was named in his honor.
Dr. Mansfield was knighted by Queen Elizabeth II in 1993. Among his many other accolades, Dr. Mansfield was awarded gold medals by the Royal Society Wellcome Foundation, the International Society of Magnetic Resonance in Medicine and the European Congress of Radiology.