RSNA 2017 Sessions Geared Toward Residents and Fellows
Highlighted by the annual RSNA Resident and Fellow Symposium, RSNA 2017 offers a full roster of programming geared toward residents and fellows, along with networking opportunities this year. Check out the Resident and Fellow Tweet-up planned for today.
Tuesday, 1:00-4:00 p.m.Room E451B
MSRP31
RSNA Resident and Fellow Symposium
Provided by the RSNA Resident and Fellow Committee, the symposium offers a wide range of career-related issues beneficial to radiology trainees. Sessions are:
What RSNA Offers Members in Training (1:00-1:15 p.m.)
Panel Discussion: Academic, Private Practice, Hybrid Model, Telerad, Interventionalist (1:15-1:30 p.m.)
Session 2: Landing the Job You Want (1:50-2:55 p.m.)
Interview to Win — How to Land the Job You Want (1:50-2:30 p.m.)
Contract Negotiation (2:30-2:55 p.m.)
Session 3: Tips for a Successful Career (2:55-4:00 p.m.)
Tips for Successful Leadership: What I Wish I Knew Back Then (3:20-3:45 p.m.)
Q&A (3:45-4:00 p.m.)
Tuesday, 12:30-2:00 p.m. Room S501ABC
RCC33 
Technologies for Creating Educational Content and Teaching Files
Sessions include:
Podcasting and Screencasting for Teaching
ePublishing
Incorporating the iPad in Resident Education: Using Mobile Technology to Improve the Way We Teach
Tuesday, 4:30-6:00 p.m. Room E260
RC402
What's New from the Radiology Residency Review Committee
Presenters will provide updates from the Review Committee for Diagnostic Radiology and on Accreditation Council for Graduate Medical Education (ACGME's) Next Accreditation System.
All Day | Digital Education Exhibit
HP126-ED-X
Between Mini-Fellowships to the Job Search: How Trainees Might Approach Recent Changes from the American Board of Radiology (ABR)
Presenters will summarize recent curricular and certification changes from the ABR and present preliminary survey results pertaining to "mini-fellowships," fellowship training, and the job search.
All Day — Digital Education Exhibit
VI163-ED-X 
What Every Resident Should Know About PAD: Workup, Clinical Evaluation and Treatment
Presenters will review anatomy of the lower extremities with emphasis in atherosclerotic disease processes and discuss the clinical workup and diagnostic tests for patients with lower extremity arterial disease and how these tests will guide treatment options and outcomes.
All Day — Digital Education Exhibit
NR255-ED-X
Midnight Radiology: A Primer on Emergent Head CT Findings for the On-Call Resident
Presenters will review non-contrast appearance of emergent head CT findings, discuss radiological signs on head CT and their pitfalls and highlight trouble spots for radiologists, particularly residents, on the non-contrast head CT.
Explore Other Resident and Fellow Offerings: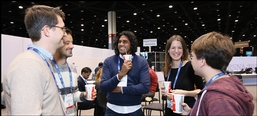 Residents Lounge
RSNA members-in-training and non-member residents are offered a place to relax and network while enjoying complimentary refreshments. The lounge is open Sunday through Thursday, 8 a.m. – 6 p.m.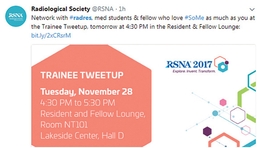 Trainee Tweet Up
Get some face-to-face time with radiology residents and fellows you've conversed with on Twitter at this IRL (in real life) networking event for trainees. The Tweet Up will be held in the Residents Lounge from 4:30 – 5:30 p.m., Tuesday, Nov. 28.