Resident vs. Attending Coverage: What are the Merits?
Twenty-four-hour resident coverage in radiology at academic medical centers with faculty oversight has its proponents, but has also come under fire — particularly around the quality of patient care at night and the education of residents.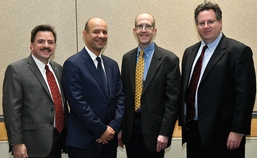 During Monday's course, "24-Hour Attending Coverage: Has the Time Come?" Michael A. Bruno, MD, from Penn State University in Pennsylvania, PA, laid out the biggest challenges with making this change, while Hani H. Abujudeh, MD, MBA, from Rutgers New Jersey Medical School in Newark, NJ, shared his thoughts on how centers that have already made this change are thriving.
The traditional model for night coverage in teaching hospitals is for an upper-level resident to be responsible for providing real-time, onsite coverage all night. Residents are supervised by attending faculty who are available for consultation by phone at night. The residents' work is reviewed the following morning, often by multiple faculty members of each subspecialty.
When an attending radiologist covers the overnight shift, residents are still present and working, but are more immediately supervised by the attending, who signs off on all types of cases and also provides direct care.
"In study after study, it has been shown that residents are at least as accurate and are typically more accurate for overnight ER radiology reading than attending radiologists," Dr. Bruno said. "In my opinion, faculty are generally subspecialists, whereas the residents are more generalists and are therefore better suited for this type of work."
Dr. Abujudeh disagrees. "Residents who are on their own in the overnight hours are often overworked, especially due to the volume and acuity of the cases, and due to their inexperience," Dr. Abujudeh said. "Having an overnight attending, especially an ER radiologist, provides high value because they can immediately catch errors and are more of a condition specialist, trained for severe or emergency inpatient issues."
Resident training is also an issue affected by a change to 24-hour attending coverage. "When a resident makes an error, there is up to an 8-hour void before an attending catches the error," Dr. Abujudeh said. "Unfortunately, residents often never learn of their error because after an overnight, they head home."
"However, as a resident, knowing that my decisions would be acted upon and would not immediately be second-guessed or rescinded, made me work harder to make sure my decisions were correct," Dr. Bruno said. "Taking that pressure away from residents would drastically undermine the effectiveness of teaching programs."
In closing, both doctors talked about how 24-hour attending coverage can and does affect the quality of patient care. For Dr. Bruno, having 24/7 attending coverage creates different levels of care. "Residents provide a higher level of care, no matter what time of day, and attending coverage eliminates the benefit of double-reading for error mitigation and prevention of patient harms," Dr Bruno said.
For Dr. Abujudeh, patient care definitely improves when attending physicians, particularly ER specialists, read over 24 hours. "Having attending physicians reading images day and night provides a continuity of care for the patient. They can be assured that there will be fewer delays in diagnosis, especially if there is a change to a read in the morning, and that their wait time, especially in the emergency department, will be reduced," Dr. Abujudeh concluded.
Would 24-hour coverage by an attending radiologist versus overnight resident coverage lead to better patient care? #RSNA17 #RadRes

— Radiological Society (@RSNA) November 27, 2017