Radiologists Perform the Majority of Percutaneous Embolization Procedures
As minimally invasive treatment options become increasingly advanced, the use of percutaneous embolization procedures has more than doubled over the last decade. While radiologists are leading the way in performing percutaneous embolization, non-radiologists are gaining ground, new research shows.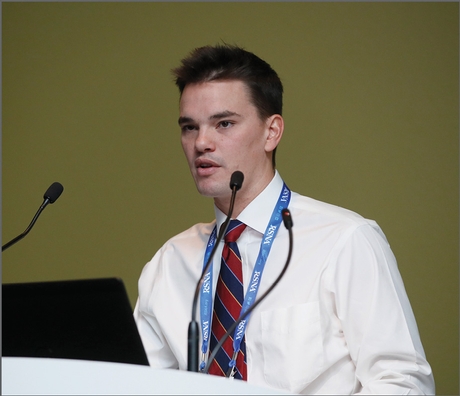 On Monday, David Hansberry, MD, PhD, of Thomas Jefferson University in Philadelphia, presented the results of a recent study that evaluated the utilization of percutaneous embolization among both radiologists and non-radiologists.
Using the Medicare Part B fee-for-service databases for 2005 to 2015, Dr. Hansberry and colleagues analyzed the number of procedures (excluding head and neck embolization) performed by radiologists, vascular surgeons, cardiologists, nephrologists, obstetricians/gynecologists and other surgeons. The researchers used this data to track volume trends from 2005 to 2015 and to compare each physician group's market share for 2005 and 2015.
"Percutaneous embolization has proven to be an excellent non-invasive, non-operative procedure for managing hemorrhage, tumors and vascular malformations," Dr. Hansberry said. "With many patients preferring these options over traditional surgery, we're seeing a substantial increase in the number of these procedures being performed across an array of physician groups."
According to the study, the total volume of percutaneous embolization procedures performed by all providers increased from 20,265 in 2005 to 50,529 in 2015. Of these, radiologists performed the vast majority. Of 30,742 procedures performed in 2015 (up from 13,872 in 2005), radiology accounted for 61 percent of all percutaneous embolization procedures. Radiologists performed 68 percent of the 13,872 procedures in 2005.
"Radiologists performed five times as many of these procedures compared to vascular surgeons, who had the second highest volume," said Dr. Hansberry. "These findings mirror the move towards minimally invasive procedures that we've seen happening in radiology over the past 10 years."
Another key takeaway from the study is that other specialties are starting to perform percutaneous embolization procedures more frequently. For example, in 2015, vascular surgeons performed 6,284 procedures – up from 2,538 in 2005 – representing 12 percent of all procedures performed. Likewise, "other surgeons" performed 5,668 procedures in 2015, compared to 1,590 in 2005.
"While there has been continued growth in volume for radiologists, we are also seeing rapid progression among non-radiologists, who collectively performed 39 percent of all percutaneous embolization procedures in 2015," said Dr. Hansberry.
In the years ahead, Dr. Hansberry expects to see a continuation of this trend. "As we collect figures for the next five years, it will be especially interesting to see what happens in these non-radiologists groups," he said.