Technical Exhibits Showcase World's Latest Innovations
Visit the world's largest medical exhibition, featuring nearly 700 exhibitors from across the globe. Shop and compare equipment, supplies, devices and software demonstrated by leading manufacturers, suppliers and developers of medical information technology in two halls.
NEW: Machine Learning Showcase
Sponsored by Carestream Health, Google Cloud and Zebra Medical Vision
The new Machine Learning Showcase offers attendees the chance to learn more about this emerging area and network directly with companies at the forefront of the latest technology. Presentations will take place each day from 11 a.m. to 2 p.m. The showcase is located in North Hall B.
NEW: Start-up Showcase
Visit the Start-up Showcase in North Hall B to explore the latest medical imaging innovations and connect with emerging companies positioned to bring new products and services to market.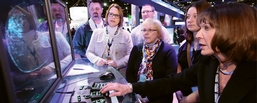 First-Time Exhibitor Pavilion
First-time exhibitors demonstrating new products and services will be featured in a showcase area inside North Hall B. Other first-time exhibitors located throughout the exhibit hall will be identified with a First-Time Exhibitor logo.
Vendor Workshops
Vendors provide hands-on tutorials of commercial software
systems in classroom settings inside South Hall A.
International Pavilions
Exhibitors from 27 countries are on display at RSNA 2017. Canada (Ontario, specifically), China, France, Germany and Korea have dedicated pavilions to showcase technology and services from their countries.
Publishers Row
Visit top medical publishers that will display their education materials from across all areas of medical imaging, located in South Hall A.
Bistro RSNA

Technical Exhibit Halls, North & South Buildings
Learning Center, Lakeside Center East
Enjoy a sit-down meal featuring an extensive gourmet menu. With plenty of seating, this is a perfect place to take a break and network with your colleagues.
Stop by any of the three Bistro locations to purchase your tickets for $24 per meal.
Lunch
Sunday, Nov. 26 to Wednesday, Nov. 29
11 a.m. to 2:30 p.m.
Brunch
Thursday, Nov. 30
10:30 a.m. to 1:30 p.m.
Offered on Thursday only, enjoy this hearty brunch featuring your favorite breakfast and mid-day foods.
TECHNICAL EXHIBIT HOURS
South Hall A and North Hall B
Sunday, Nov. 26 to Wednesday, Nov. 29
10 a.m. to 5 p.m.
Thursday, Nov. 30
10 a.m. to 2 p.m.