The RSNA Connections Center: Your Source for Information and Entertainment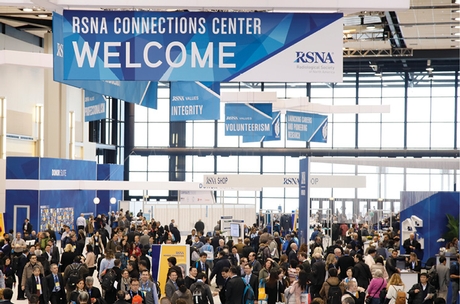 The RSNA Connections Center offers a variety of opportunities to learn more about RSNA, experience popular entertainment or enjoy a break from the meeting. Whether you have questions about your membership, are looking to make a donation to support Research & Education (R&E) grants or need a place to charge your phone, the Connections Center has you covered.
Membership & Resources
Get answers to your questions about journal subscriptions and making the most of your membership benefits in the Membership & Resources section. The Membership & Resources section also has information about Career Connect, RadiologyInfo.org, Radiology Cares® and Image Wisely®. Attendees can also check out all of RSNA's print, online and mobile applications in this area. New this year is the self-serve ribbon wall, where you can collect your assigned ribbon(s). Staff can assist with your ribbon selection.
You can also check out RSNA's newly-upgraded online education platform, the RSNA Online Learning Center, featuring more than 600 online SA-CME activities and an enhanced, mobile-friendly user interface. Staff will be on hand to walk you through the unique education features and tools.
Learn more about RSNA services including RSNA's international programs such as the International Visiting Professor program, the Derek Harwood-Nash International Fellowship and the Introduction to Research for International Young Academics program.
R&E Foundation Donor Suite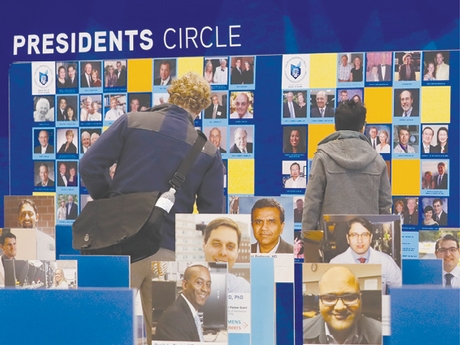 The Research and Education (R&E) Foundation Donor Suite offers light refreshments, computers, a coat room and comfortable furniture exclusively for donors who contribute $300 or more to the Foundation. Stop by to learn more about R&E Foundation activities, including the Inspire-Innovate-Invest Campaign. Read about current grant recipients, as well as individual, private practice and corporate donors who provide funding for grants.
Information Desk
Visit RSNA staff at the Information Desk for answers to all your questions about RSNA 2017.
Digital Support
RSNA technology experts are available to provide one-on-one digital help with Meeting Central, the RSNA Meeting App or the Virtual Meeting.
RSNA Shop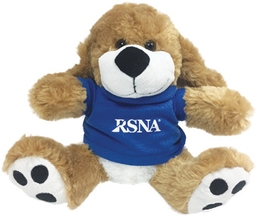 If you're looking for RSNA-branded merchandise to take home, the RSNA Shop is your go-to resource. This year, you'll find branded items including cashmere scarves and pashminas, leather notebooks, power banks and plush toys for the kids. New this year are adult coloring books and photo frames, along with a special edition R&E coffee mug, with proceeds benefiting the R&E Foundation.
Discovery Theater Features Music, RSNA Programming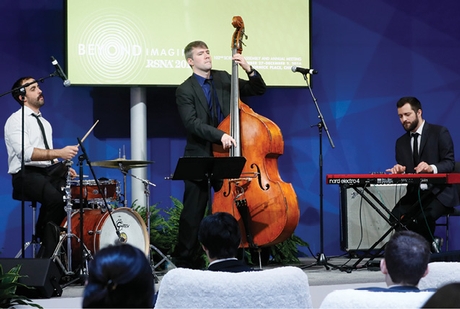 Located within the Connections Center, Discovery Theater will feature unique discussions and presentations about RSNA programs and research from the field, along with special musical and performance acts. The top 25 entries in the 2017 Image Contest will also be on display in the theater.
New this year is the Diagnosis Live™ Resident Competition to be held on Monday at 10 a.m. Four residency programs will go head-to-head for the ultimate residency program bragging rights.
Discovery Theater offers casual seating options where you can relax and recharge while listening to music, watching a presentation or networking with colleagues. Visit Meeting Central at Meeting.RSNA.org for the full schedule and to add events to My Agenda.
Some scheduled Discovery Theater events include:
Sunday, Nov. 26
Reviewing for RadioGraphics, 9 a.m.
Navigating RSNA/Chicago (in Portuguese), 10 a.m.
Navigating RSNA/Chicago (in French), 11 a.m.
Austin Ellis, Noon-1 p.m., Vocalist
Navigating RSNA/Chicago (in Spanish), 1:10 p.m.
Ask a Graphic Media Expert, 1:55 p.m., Bring all your graphic design questions to this forum.

NEW:

2018 Hotel Reservations–Book Today!, 2:30 p.m., Staff will cover the benefits and process of reserving your hotel for 2018.
Matt Peterson, 3:30-5:30 p.m., Pianist.
Monday, Nov. 27 to Wednesday, Nov. 29
Back by popular demand, Nancy Pochis Bank and her team will paint two murals at RSNA 2017.
Monday, Nov. 27
Image Wisely® Update, 8:30 a.m.
Radiologists' Hobbies, 9 a.m.
Jesse White Tumblers, 9:30-10 a.m.
Crescent Circus, Noon-1 p.m., Magic and Circus Act
Milwaukee Hot Club, 2-4:30 p.m., Musical Group
Tuesday, Nov. 28
RadiologyInfo.org – Educating the Public, 8:15 a.m.
Using RSNA's Career Connect in Your Job Search, 9:30 a.m.
R&E Foundation Embraces Machine Learning, 10 a.m.
Radiology Cares®- Patient-Centered Radiology, 10:30 a.m.
RSNA's New Online Education Platform, 11:45 a.m.
Laura Bretan, 12:30-1 p.m., Opera Singer
David Ranalli, 1:30-2:30 p.m., Magician
Rio Bamba, 3:30-5:30 p.m., Musical Group
Wednesday, Nov. 29
RSNA 3-D Printing SIG – The Future of Medical 3-D Printing, 9 a.m.
Chicago Kingsnakes, Noon-1 p.m., Blues Music
Martin Metzger Flamenco Ensemble, 2-3:30 p.m.
Navigating RSNA on a Dime, 4:30 p.m.
Thursday, Nov. 30
Doc Mintz's Vat of Chocolate, Noon-1 p.m., Jazz Blues Band
Callaloo, 3-4 p.m., Steel Drum Band