Experience RSNA 2017 from Virtually Anywhere
A wide variety of educational programming, scientific presentations and education exhibits are at your fingertips when you register for the RSNA 2017 Virtual Meeting.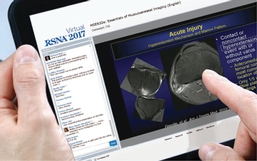 With over 100 live-streamed and on-demand courses, the Virtual Meeting gives you access where and when you want. Both RSNA 2017 registered attendees and medical professionals around the globe can participate in the Virtual Meeting.
The Virtual Meeting is available 24 hours a day beginning at 8 a.m. CT (Central Time) on Saturday, Nov. 25, with sessions beginning that afternoon. Live programming will run simultaneous to the annual meeting, and all Virtual Meeting programming will be available on demand through Wednesday, Feb. 28, 2018, at 4 p.m. CT (Central Time).
RSNA 2017 Virtual Meeting offers CME credit for all live-viewed sessions upon completion of a course evaluation or submitting correct diagnoses for Cases of the Day. Select on-demand sessions offer CME upon successful completion of a test and course evaluation.
The virtual community, with live chat capabilities, allows you to discuss course content with colleagues from across the globe.
Flexible pricing allows you to attend the Virtual Meeting in conjunction with the Live Meeting or as a stand alone product. The Virtual Meeting is free for retired members. Register online at RSNA.org/Register.
Visit RSNA.org/Virtual to view the complete Virtual Meeting course listing and to access live and on-demand courses during and after the meeting.