Navigating Your First RSNA Annual Meeting? Veteran Attendees Offer Some Tips
For those attending their first RSNA annual meeting, three-time meeting attendee David Gimarc, MD, has an analogy for your consideration.
"Someone once told me that attending RSNA for the first time is like trying to take a drink from a fire hydrant," said Dr. Gimarc, chief radiology resident at the University of Colorado Hospital, Denver, and a member of the RSNA Resident & Fellow Committee. "As the largest medical imaging meeting in the world, it's very easy to feel overwhelmed."
For the uninitiated, just learning to navigate the massive structure that is McCormick Place is a challenge in itself. But what can first-time attendees do to make the experience go as smoothly as possible? Lots of things, according to attendees who have learned from experience.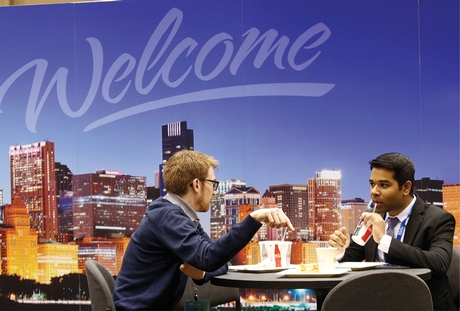 Planning ahead — long before you get to Chicago — is critical. To save costs, travel with a colleague, suggests two-time meeting attendee Gerald Drocton III, MD, a neuroradiology fellow at Ohio State University Wexner Medical Center in Columbus.
Book your hotel room in advance through the RSNA website to receive reduced rates for meeting attendees and free convention shuttle rides, Dr. Drocton said.
Once onsite, newbies should start by soaking up the environment, said Adam Flanders, MD, a professor of radiology and rehabilitation medicine and vice-chair of imaging informatics at Thomas Jefferson University Hospital in Philadelphia. "Wander around all of those immense buildings and explore everything RSNA has to offer," said Dr. Flanders, a 30-plus-year attendee. "Don't try to box yourself into a tight schedule of events initially."
It's important to dress professionally but comfortably, suggested Courtney Tomblinson, MD, chief resident in diagnostic radiology at the Mayo Clinic in Phoenix and chair of the RSNA Resident & Fellow Committee.
"Dressing in layers can keep you flexible from room to room where the temperatures may fluctuate," said Dr. Tomblinson, who has attended the annual meeting twice.
Adds Dr. Flanders: "Wear comfortable shoes and don't carry a lot of stuff you don't need — no more than a tablet/PC, water bottle, snacks ... otherwise you will be exhausted before lunchtime."
Tap into RSNA Tools
Along with virtual and physical Information Desks, RSNA offers a number of electronic tools to aid attendees. Download the RSNA meeting app on your smartphone and use the "What's Happening Now?" feature, Dr. Flanders suggested. Refer to the RSNA meeting program and Pocket Guide frequently — or constantly.
Consider exploring a wide range of session formats, said Christian Zumkley, MD, a radiologist at Mathias-Spital, a hospital in Rheine, Germany, who will be attending the RSNA annual meeting for the 17th time this year.
He recommended taking educational courses, as "they are very good, especially for beginners. Also, the hands-on courses are often good to get some experience," Dr. Zumkley said.
"Go over to the Lakeside Center and view some exhibits: traditional poster and digital presentations as well as 3-D models," Dr. Flanders said. "If you're a trainee, make a point of taking advantage of the Residents Lounge where you can network and grab a snack."
Also for trainees, Gelareh Sadigh, MD, a neuroradiology fellow in the Department of Radiology and Imaging Sciences at Emory University School of Medicine in Atlanta, highly recommends attending the RSNA Resident and Fellow Symposium. This year's symposium on Tuesday, Nov. 28 offers sessions on landing the job you want and how to build a successful career.
For international members, RSNA offers courses on navigating RSNA 2017 presented in English, Portuguese, French and Spanish. (See "RSNA Resources Aid Novice Attendees" below). Translation services in Chinese, Dutch, German, Italian, Japanese and Spanish are offered at Information Desks throughout McCormick Place.
And RSNA will once again offer a free professional portrait studio that has been enormously popular with attendees.
"I've gotten the best headshots I have ever had during the RSNA annual meeting," said Dr. Sadigh, who attended her first meeting in 2010 and has been here every year since.
Have Some Fun Out There
You're here to learn, but don't forget to have some fun and sample the eclectic variety of food and attractions Chicago has to offer.
"Whether it be a Chicago Bulls basketball game, a visit to the Field Museum, the Shedd Aquarium or the Art Institute of Chicago, the city has something for everyone," Dr. Drocton said.
Swing by downtown's Christkindlmarket, stroll down the Magnificent Mile or go see a show.
"Make sure to plan at least a little bit of time to enjoy Chicago," Dr. Gimarc said. "While it can be quite chilly in late November — depending on where you're coming from — the city is decorated for the holidays and can be really beautiful."
RSNA Resources Aid Novice Attendees
Meeting Central: Optimized for tablets and mobile devices, Meeting Central at Meeting.RSNA.org is an essential resource for navigating RSNA 2017. Browse course listings, the technical exhibitors list, build your schedule on My Agenda and more.
RSNA 2017 Meeting App: Download the App for iPhone, iPad and Android smartphones to access and explore the RSNA meeting program even when you are offline.
Social Media: Follow RSNA on Facebook, Twitter, Instagram and LinkedIn to get the latest news, connect with colleagues and share your favorite meeting moments (#RSNA17).(See "Connect Over Social Media at #RSNA17")
First-Time Attendee Orientation
Saturday, Nov. 25 and Sunday, Nov. 26
Led by an RSNA staff member, this is the opportunity for attendees who have never been to an RSNA annual meeting to network with their peers and learn how to maximize the annual meeting.
Navigating RSNA in Portuguese, French and Spanish
Sunday, Nov. 26
Gain insight into the meeting program, networking opportunities and insider tips for navigating the annual meeting and exploring the city of Chicago. Individual sessions are presented entirely in Portuguese, French and Spanish.
Navigating RSNA on a Dime
Wednesday, Nov. 29
This session will provide tips on how to attend the RSNA annual meeting and enjoy Chicago on a tight budget.
For more information on these sessions, go to Meeting.RSNA.org