Q&A With RSNA President Richard L. Ehman, MD
In his President's Address, "Is it Time to Reinvent Radiology?" at 8:30 a.m., Sunday, Nov. 26, in the Arie Crown Theater, RSNA President Richard L. Ehman, MD, will discuss the role of radiology in leading and embracing the extraordinary period of change underway in the specialty. Below, Dr. Ehman offers a preview of his presentation.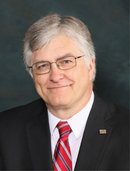 Daily Bulletin: Are you optimistic about the future of radiology?
Dr. Ehman: I am awed by the amazing opportunities that lie ahead in our field. Advances in medical imaging technology over the last decades have changed medicine so profoundly that most physicians could not imagine taking care of patients without them. And the pace of innovation continues.
DB: What do you feel is the most important opportunity in radiology today?
RLE: We have a great opportunity to now focus our innovation on optimizing the value of our services in radiology. In medical imaging, the value of a diagnostic procedure can be considered to be proportional to metrics for diagnostic performance, quality, safety and service, and inversely related to cost. Extraordinary innovations in medical imaging science and technology have steadily advanced value by escalating the diagnostic performance of our services, but perhaps we have not applied the level of creativity and innovation to minimizing cost in the denominator of the value equation.
I believe that our most advanced and powerful capabilities are ripe for disruption and that the radiology community should lead in this regard rather than stand at the sidelines.
DB: How will innovation and invention continue to define radiology?
RLE: Radiology originated with a singular discovery and invention by Wilhelm Roentgen 122 years ago, and most of the major advances in our field since then have been the product of invention. Over the years, innovation in radiology has usually focused on addressing very practical problems, and the resulting solutions have often been translated to improve patient care with amazing speed.
Recent studies have also shown that investments in research in medical imaging have a very high rate of return, including a remarkable rate of new inventions and substantial downstream economic impact.
DB: What role does collaboration play in the future of radiology?
RLE: The extraordinary advances in medical imaging technology have often been the product of unique multidisciplinary efforts, harnessing biomedical science with physical science and engineering.
Radiology should continue to embrace the collaborations that created our field in the first place in order to expand our ability to employ our most powerful technologies to serve our patients.
Richard L. Ehman, MD, is a professor of radiology and the Blanche R. & Richard J. Erlanger Professor of Medical Research at the Mayo Clinic in Rochester, MN. A widely respected leader in radiology research, Dr. Ehman has served as chair of the Radiology and Nuclear Medicine Study Section of the National Institutes of Health (NIH). An NIH-funded clinician-scientist and inventor, Dr. Ehman holds more than 70 U.S. and foreign patents. He was awarded the RSNA Outstanding Researcher Award, an RSNA Honored Educator Award and an International Society for Magnetic Resonance in Medicine gold medal. Dr. Ehman has served on the RSNA Board of Directors since 2010.