RSNA 2017 Sessions Invite Attendees to "Explore. Invent. Transform."
In keeping with this year's theme, attendees will discover myriad sessions reflecting the critical role of imaging in the future of healthcare. Below is a sampling.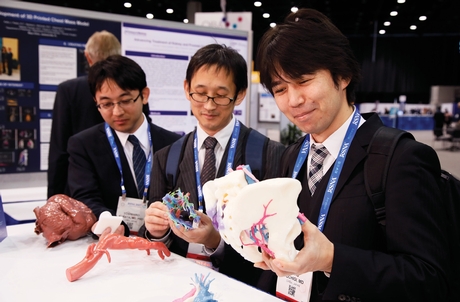 RCC25 (Educational Course)
How to Translate Radiology Reports to the Language that Patients Understand
Learn how informatics can be used to develop methods to augment your current workflow to make it more patient-centric, by providing multimedia and annotated radiology reports to help patients to understand reports typically written for referring physicians.
Monday, 4:30-6:00 p.m. | Room S501ABC
IN217-SD-TUA3
Construction of Patient-Specific Imaging Phantoms Using a Desktop 3-D Printer and Customized Filaments with a Wide Range of Radiodensities
Researchers will construct patient-specific imaging phantoms using a desktop 3-D printer and customized filaments with a range of attenuation properties, such as those encountered in the human body.
Tuesday, 12:15-12:45 p.m. | Informatics Community, Learning Center, Station 3
BR242-SD-TUB4
Automated Pre-Selection of Mammograms without Abnormalities Using Deep Learning
Researchers evaluate the potential of a computer system to select exams with a low likelihood of containing cancer.
Tuesday, 12:45-1:15 p.m. | Breast Community, Learning Center, Station 4
RC350 (Educational Course)
Targeted Treatment and Imaging of Liver Cancers: Basic to Advanced Techniques in Minimally-Invasive Therapies and Imaging
Presenters will discuss the role of the interventional radiologist in the treatment and management of patients with primary and metastatic liver cancer as part of the multidisciplinary team.
Tuesday, 8:30-10:00 a.m. | Room S403A
MSAS32
Patients Are Expecting a Retail Experience: 5 Principles from Retail Healthcare (Sponsored by the Associated Sciences Consortium) (An Interactive Session)
This session focuses on the underlying people, processes and technologies that create an enhanced retail consumer experience. Attendees will learn to identify opportunities for clinical practices to enhance the patient experience and prepare your organization for the shift to treating the patient as a consumer.
Tuesday, 10:30 a.m.-12:00 p.m. | Room S105AB
SSJ12 (Scientific Session)
Point-of-Care Virtual Radiology Consultations in Primary Care: A New Model for Patient-Centered Care in Radiology
Presenters discuss the value of point-of-care virtual consultations through implementing synchronous video-based virtual consultations in which referring physicians can consult with a radiologist virtually and review studies in real-time while seeing a patient.
Tuesday, 3:10-3:20 p.m. | Room S104B
RC517 (Educational Course)
Emerging Technology: Elastography —Opportunities and Challenges
Presenters will discuss the elastography measurements that are integrated into the management of patients with chronic liver disease as well as the imaging techniques and protocols of US and MR elastography.
Wednesday, 8:30-10:00 a.m. | Room S505AB
RCC42 (Educational Course)
Platforms and Infrastructures for Accelerated Discoveries in Machine Learning and Radiomics
Presenters will discuss the challenges involved in creating machine learning (ML) and radiomics experiments with standard clinical systems and review tools that can bridge the gap between existing clinical systems and translational research in medical imaging.
Wednesday, 10:30 a.m.-12:00 p.m. | Room S501ABC
ML009
Invited Poster: Beyond Deep Learning: The Role of Medical Expertise in Guiding Artificial Intelligence
This session will focus on the continued growth of artificial intelligence (AI) algorithms and the ultimate task that radiologists will need to perform — mapping between biology/pathology and image representations. 
Wednesday, 12:15-12:45 pm. | Room ML009, Machine Learning Community, Learning Center
VS1041-11
A Data-Driven Model for Microwave Ablation
The session will feature a data driven image-guided thermal ablation model computed from real patient data that reduces the risk of untreated tumor or damaging critical structures.
Wednesday, 1:30-6:00 p.m. | Room S405AB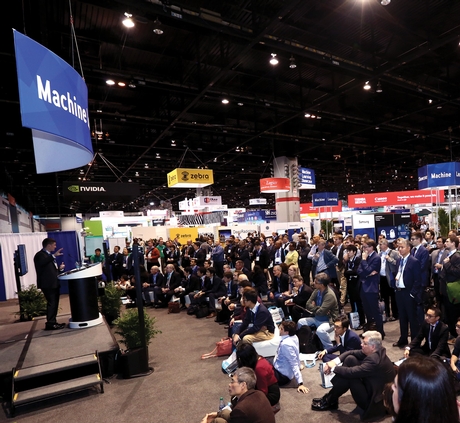 SPSH50
Hot Topic Session: Abbreviated MRI Exam — Breast MRI in 5 Minutes
Presenters will discuss the concept of an abbreviated breast MRI (AB-MR) examination and the role of AB-MR as a screening tool. The session will also cover the role and applications of ultrafast imaging in an AB-MR examination
Thursday, 7:15-8:15 a.m. | Room E450A
RCC51 (Educational Course)
Mission Critical: How to Increase Your Value by Mastering the Intersection of Quality Improvement and Informatics
Presenters will identify the required structural framework necessary for improving quality, describe the improvements facilitated by a range of commercially available informatics tools and discuss how to implement a radiologist-based quality improvement process in your own department.
Thursday, 8:30-10:00 a.m. | Room S501ABC
ML120-ED-X (Education Exhibit)
Deep Learning Applications in Radiology, Recent Developments, Challenges and Potential Solutions
This exhibit offers an overview of different deep learning (DL) architectures and applications of DL for various radiology tasks, and will address challenges and solutions for DL in radiology.
All Day
PH116-ED-X (Education Exhibit)
Deep Learning in Medical Image Analysis: What's Next?
The exhibit explores the basics of deep learning (DL) for detection and segmentation tasks, the differences between supervised, semi-supervised and unsupervised DL and the potential for DL learning in direct image-based quantification, diagnosis and prognosis.
All Day