New Horizons Lecture Presented Today
A New Light: The Birth, and Rebirth, of Imaging
Imaging began as an effort to match or exceed the capabilities of the human eye and now is on the verge of emulating the workings of the human brain, according to Daniel K. Sodickson, MD, PhD, who will present today's New Horizons Lecture. A renaissance of technological and methodological developments is circumventing previous limits on imaging speed, spatial resolution, information content and ultimately, value. These developments are catalyzing a fundamental shift from the traditional series of snapshots to a new paradigm of streaming information that strengthens radiologists' ability to see what lies beneath.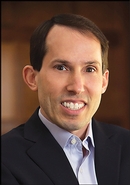 This rebirth of imaging also gives pause to revisit the history of imaging. Dr. Sodickson will review the history of biomedical imaging and explore its evolving role in our rapidly changing world. Radiologists who embrace emerging paradigms of technology and information will
play a critical role in leading imaging through what promises to be an extraordinary period of growth and change.
Dr. Sodickson is the vice chair for research in the Department of Radiology, director of the Bernard and Irene Schwartz Center for Biomedical Imaging and a professor of radiology, physiology and neuroscience at NYU School of Medicine in the NYU Langone Health system in New York City. He also is chair of the National Institutes of Health study section on biomedical imaging technology. Dr. Sodickson is credited with founding the field of parallel imaging, which allows distributed arrays of detectors to gather MR images at previously inaccessible speeds. As a result of his discovery, most modern MR scanners are now equipped with parallel imaging hardware and software, and parallel imaging acceleration is being used routinely in clinical MRI examinations and research imaging studies around the world. For his work in parallel imaging, Dr. Sodickson was awarded the gold medal of the International Society for Magnetic Resonance in Medicine (ISMRM) in 2006. He is the current president of ISMRM.
1:30 p.m., Arie Crown Theater