Radiology's Role in Managing Vascular Complications in Liver Transplant
Medical and surgical complications are a significant source of morbimortality and loss of grafts in the mid- and long-term periods after liver transplantation surgery. Interventional radiologists must be aware of possible vascular complications occurring post-surgery and be prepared to address these problems, according to presenter Elena Villacastín-Ruiz, MD, a vascular and interventional radiologist at Hospital Universitario Río Hortega (HURH) in Spain.
Specialists at HURH have performed more than 500 liver transplants and have developed strict protocols for diagnosing vascular complications. "The multidisciplinary work of surgeons and interventional radiologists has allowed us to solve the complications and avoid the loss of grafts," Dr. Villacastín-Ruiz said.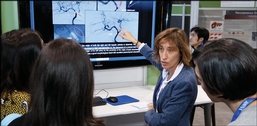 During her Sunday afternoon education session, Dr. Villacastín-Ruiz presented a series of potential vascular issues frequently affecting successful liver transplantation surgery. "Vascular complications usually occur in the early postoperative period," said Dr. Villacastín-Ruiz adding, "The prognosis depends on how early we can diagnose and treat them."
Managing Complications
According to Dr. Villacastín-Ruiz, the most frequent and serious complication, and a common cause of loss of graft, is hepatic artery thrombosis which has an 11 to 35 percent mortality rate. It often occurs in the first month after transplantation and is generally caused by problems with surgical reconstruction of the artery. Even after initial transplant success, late hepatic artery thrombosis may occur more than a month after transplantation with graft survival depending on arterial collateral vascularization.
Therapeutic options for hepatic artery thrombosis include revascularization (surgical or endovascular), transcatheter fibronolytic therapy, retransplantation (limited by donor shortage) and observation (for patients who develop collateral vascularization distal to thrombosis).
Less frequent complications related to the hepatic artery are stenosis, pseudoaneurysm and arterial steal syndrome, a condition in which blood flow is diverted to another arterial branch, typically the splenic or gastroduodenal branch. First-line treatment options range from endovascular angioplasty (stenosis) or covered stent placement (stenosis and pseudoaneurysm) to coil embolization (arterial steal syndrome).
While less common, portal vein problems can occur and usually require intervention with angioplasty and stent placement. Portal vein stenosis occurs more frequently in pediatric patients and in live donor transplantation. If left untreated, it may lead to thrombosis.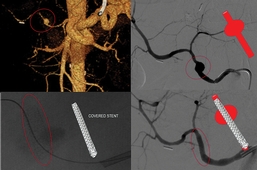 Treatments Depend on Timing
According to Dr. Villacastín-Ruiz, treatment options for portal vein thrombosis are more varied and depend on timing. "Complete early thrombosis occurring less than 48 hours after transplantation requires surgical revision. First-line therapy for complete or partial thrombosis occurring 48 hours to 30 days is generally managed with thrombolysis and stent placement. For late thrombosis occurring more than 30 days post transplantation, observation is recommended for asymptomatic patients, and thrombectomy and transjugular intrahepatic portosystemic shunt placement or fibrinolysis are recommended for symptomatic patients." she said.
The least common vascular complications of liver transplantation include stenosis and thrombosis of the cava and suprahepatic veins. Dr. Villacastín-Ruiz said strictures of these veins are treated by transjugular access. "Percutaneous transhepatic access should be used only when the anastomosis cannot be catheterized from the jugular access."
Balloon angioplasty with stent placement is the preferred treatment and is nearly 100 percent successful, according to Dr. Villacastín-Ruiz. However, she said relapses are common. "Surgical review is reserved for the unresolved endovascular cases and, ultimately, retransplantation is necessary in patients with severe graft dysfunction."