Real-time Virtual Sonography Shows Promise for Assessing Fetal Brain Pathologies
Real-time virtual sonography (RVS), also called fusion imaging, combines ultrasound (US) and MR images and could someday offer clinicians a clearer picture of fetal brain anomalies than either technique used alone, according to researchers at a Sunday session.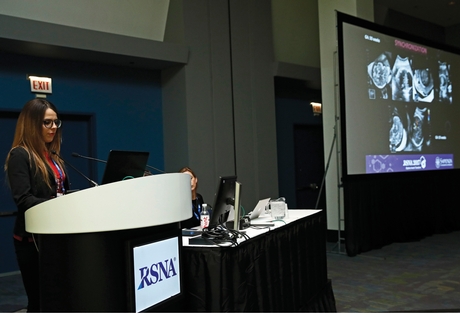 RVS, a new technique that uses magnetic navigation and computer software for the synchronized display of real-time US and multiplanar reconstruction MRI images, is already used for US-MR guided biopsies, but has not yet been applied to fetal anomalies, said principal investigator Silvia Bernardo, MD.
Amanda Antonelli, MD, from Sapienza Università di Roma, Italy, presented findings from a preliminary study of 35 patients who had undergone fetal MRI after US examinations showed possible cerebral pathology. RVS combines the two sets of images by synchronizing them during an US examination, using a small magnetic field generator and a magnetic sensor attached to the US probe. In 25 out of the 35 cases, RVS yielded better information than either MRI or US alone.
Although both US and MRI studies are often used in such evaluations, they are used as single modalities and most often are performed by different specialists.
"RVS allows better identification of the different fetal pathologies and could improve the performance of ultrasound examinations," Dr. Antonelli said.
The principal application of RVS in this study was to examine midline, cerebral gyration and vascular malformations.
Patients underwent fetal MRI on a 1.5 Tesla magnet using a multi-channel phased array coil according to a standard fetal MR protocol with a duration of 20 to 30 minutes. Subsequently, they had an US examination in a room equipped with a small magnetic field generator that powered a magnetic sensor on the US probe. The sensor allowed the synchronization of the MR images and the US images in real time. The MRI image dataset was loaded into the machine and images were displayed together with the US image on the same dual display monitor.
In all 35 cases, RVS was technically possible, with a 100 percent match between MR and US images. Data registration, matching and RVS could be completed within half an hour of the end of the exam, and sometimes in as little as 15 minutes.
RVS helped clarify the diag­nosis in 25 percent of the cases. In 25 out of 35 cases of encephalic pathology, RVS allowed a more thorough diagnosis. In the remaining cases, MRI alone was superior to both US and RVS.
MRI was superior to US alone in four cases. In one case of an encephalic lesion seen on US, MRI was able to detect the extra-axial nature of the lesion and to identify the presence of blood components. In a study of the encephalus in a fetus affected by cardiac rhabdomyomas, MRI showed multiple cortical brain lesions, not detectable on US even with the use of RVS.
In a cortical gray-white matter blurring case, MRI depicted the poor neuronal migration toward the cortical layers while US was able to identify the ventriculomegaly but not the cortical anomalies. In the last case, MRI was able to detect the split spinal cord in the vertebral canal in a case of diastematomyelia, while US pointed out interpeduncular distance augmentation alone.
This research was awarded an RSNA Student Travel Stipend Award.