Five-Minute Knee MRI Is Comparable to Standard MRI
Fast five-minute knee MRI using parallel imaging is diagnostically interchangeable with and has similar accuracy to standard knee MRI, according to researcher Erin F. Alaia, MD, who presented study results during a Sunday session.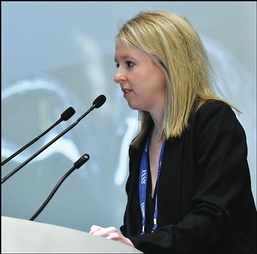 MR images are so good, they are better than we need," said Dr. Alaia, a musculoskeletal radiologist at New York University (NYU). "With high-field magnets and multi-channel coils, we can improve the resolution or scan faster."
In the study, 100 3T MRIs were performed on 100 patients (mean age 38.8 years) and 50 1.5T MRIs were performed on 46 patients (mean age 46.4 years) at NYU and the Cleveland Clinic between 2015 and 2016. The exams consisted of five fast multi-planar 2-D fast spin-echo (FSE) sequences using parallel imaging and five standard sequences. Four musculoskeletal radiologists retrospectively reviewed all images.
"The fast-knee MRI takes five minutes while the standard MRI can take up to 18 minutes to complete," Dr. Alaia said. "It's a valuable tool for patients with claustrophia and for dealing with motion artifacts."
The researchers looked for agreement between the fast and standard MRI readings for evaluating internal derangement of the knee, including meniscal, ligamentous, chondral and bone pathology. For fast and standard MRI, inter-reader agreement was similar. While there was no significant difference in the frequency of major findings reported on fast-knee and standard MRI, more ACL tears were reported on fast MRI and more cartilage defects were reported on standard MRI.
The fast five-minute knee MRI can increase throughput, improve image quality by decreasing motion artifact and increase patient comfort, Dr. Alaia said.