Radiology Occupies a Central Place in Precision Medicine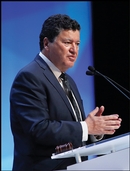 As the 21st century progresses, radiology will play an increasingly important role in answering questions surrounding the origin and progression of disease, driving medicine into an era of precision care, said a leading expert during one of yesterday's plenary lectures.
Radiologist Elias A. Zerhouni, MD, a top executive at the Paris-based pharmaceutical company Sanofi and former director of the National Institutes of Health (NIH), expressed gratitude for being back in his "radiology family" before outlining the challenges and opportunities ahead for the profession. He said that predicting that future is not nearly as difficult as some believe.
"The first principle that I will share with you is that what will be is already here," he said. "The other phenomenon we are seeing is that the speed at which things will happen tends to be overestimated."
In his talk, "Imaging Innovation in 21st Century Biomedicine — Challenges and Opportunities," the RSNA Gold Medal award winner noted that overly optimistic timetables often fail to take into account the multidimensional complexity of biomedicine. The interactions among DNA, RNA, cells and organisms create enormous diversity that makes the transition to personalized medicine challenging.
"We have to participate, not just peripherally, but in the core scientific challenges of today, which are summarized by the tension between the complexity of biological systems and the precision medicine needed in the individual patient population," he said.
Resolving that tension will require cross-specialty collaboration, said Dr. Zerhouni, who pointed out that 11 imaging-related Nobel Prizes have come from physics and eight from chemistry.
"Imaging innovation is, by its very nature, interdisciplinary," he said.
Lack of reliable biomarkers to localize and assess the functionality of therapeutic molecules and their targets in vivo bedevils progress, according to Dr. Zerhouni, but there are promising advances on the horizon. One example is transforming growth factor beta, a signaling protein that is thought to play a role in the growth of glioma, a type of brain cancer. Elevation of this growth factor has been associated with a poor clinical outcome. Dr. Zerhouni shared results from a study in which researchers using PET were able to track the uptake of a cancer-fighting antibody that neutralizes the growth factor in the brain.
"You can see that the concentration is increasing in the glioma, telling us that this is a diagnostic test that validates the therapeutic target for us," he said.
Imaging findings are one part of the equation, Dr. Zerhouni said, that must be correlated with other data to enable earlier detection and characterization of disease and optimize therapies at the individual patient level. He cited the Alzheimer's Disease Neuroimaging Initiative, the largest-ever NIH public-private partnership on brain research, as an example of the future's promise in using data to provide objective markers for disease.
"Is this going to have a huge impact?" he asked. "I think this is probably the most impactful type of research that we will do."
Dr. Zerhouni closed his address before a packed house at Arie Crown Theater by urging experienced radiologists to mentor newcomers in order to tackle the lofty challenges ahead.
"My plea to you, my plea to RSNA, is to never forget that all of this will be done by people," he said. "The next generation of radiologic scientists is, to me, the No. 1 priority, and we need to support and train them."