An App for Anatomy: How Technology is Affecting Learning
Technology continues to change the way that students study. For first-year medical students, anatomy education is rapidly changing to focus less on identification and more on clinical applications. In fact, many medical schools have incorporated radiologic images into these more clinically-oriented curricula. Since radiology education lends itself well to e-learning, with images and datasets best viewed digitally, a new radiology mobile curriculum was developed and its integration into a first-year medical undergraduate anatomy course was evaluated.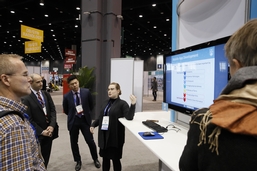 Kathryn Darras, MD, from the University of British Columbia in Vancouver, Canada, and colleagues developed the free mobile app to increase student confidence in identifying normal anatomic structures, ordering imaging tests and identifying common pathology.
"The app content is organized into pre-clinical and clinical years, focusing on basic anatomy, common pathologies, ultrasound skill development and ordering appropriateness criteria," Dr. Darras said. "The app uses validated teaching methods, so the content is organized to allow medical students to use it from the first day of school to the first day of residency and beyond."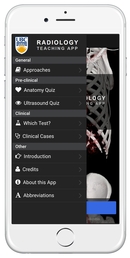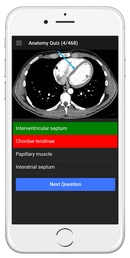 The resource is based on standardized objectives and can be integrated into any medical school curriculum. It includes more than 500 anatomy questions featuring x-ray, CT, MRI and ultrasound images and more than 60 clinical cases featuring detailed case descriptions with differential diagnosis, final diagnosis and findings.
After launching the app, the researchers wanted to determine if the app had educational value for the first-year anatomy course and ultimately, if it could improve students' final exam scores compared to the previous year's students.
Two hundred eighty eight students downloaded the app and 142 responded to an online survey about its use. Overall, students spent more time studying from the app than from lecture notes with 88 students reporting that they spent between 30 to 120 minutes per week using the mobile app, especially when they were traveling between school and home.
"This app provides increased flexibility and learning opportunities when students are 'on the fly' between classes and home," Dr. Darras said. "Students may have previously been unable to take advantage of this downtime."
For exam preparation, 95 percent of students strongly agreed that the app was useful. On average, those who used the app scored 11 percent higher on their final anatomy exams when compared to the previous year's students who did not use the app.
The app has currently been downloaded 25,000 times from students around the world.
"This is the first mobile radiology app designed specifically for medical students that allows for learning opportunities that aren't possible with online modules or textbooks," Dr. Darras said. "We are continuing to make updates to its content to ensure it remains a high-quality, free resource for students. We want to continue investigating other ways to evolve the app as an innovative and disruptive technology."